Hi friends, how are we?
I'm feeling a tad overwhelmed, if I'm honest.  It's just two weeks until the release of It's a Man's World, my first album in 12 years.  On release day I thought it would be fun to celebrate with a gig in my local village (18/11), and ticket sales for that are going CRAZY!  Then, I thought it would be a good idea to launch the album with a gig at my favourite club ever, Pizza Express Jazz Club in Soho, London (22/11), and record a live album at the same time.  Oh, did I not tell you I'm recording a live album?  Yes... yes I am...  Let's start there, shall we?
---
I can't remember the date of my first ever gig at Pizza Express, but I do remember being sat in a hairdresser's chair on the afternoon of the gig and getting a call from my friend Abigail, telling me that the tickets had sold out.  Oh my goodness, a SOLD OUT Pizza Express!  Since then there have been many more shows, to many more full houses, and I know this one will be no exception.  I've expanded my band - it's now going to feature a 4-part horn section (including me, on alto sax) - and we're doing some brand new arrangements of tracks from the album.  We're going to record the gig, and the aim is to make a live version of It's a Man's World.  Isn't that exciting?!
So, if you're at Pizza Express on November 22nd, you'll be on my live album!  Hopefully not heckling, but cheering VERY loudly.  If you're able to come along, do book your tickets really soon, as they're selling fast.  Book now by clicking here.
---
I'm SO excited about the launch of the album in two weeks.  If you prefer to buy tracks or CDs I'll have more news next week, but if you've embraced streaming platforms there's now a way to pre-save the album.  Just so you know, pre-saving really helps artists like me, because if there's a spike in the number of listeners on release day, it's more likely that the streaming platform will recommend that music to other listeners.  If you'd like to listen to the album on the day it comes out, click here to pre-save on Spotify/Deezer.  Thank you!
I know I've not shown you the album artwork yet, and I wanted you to be the first, so here it is!  The design was done by my friend Dan Keep, and the photos were by Martin Hartley; we wanted a kind of gentleman's club vibe, with a feminine twist, and I think we managed it!  What do you think?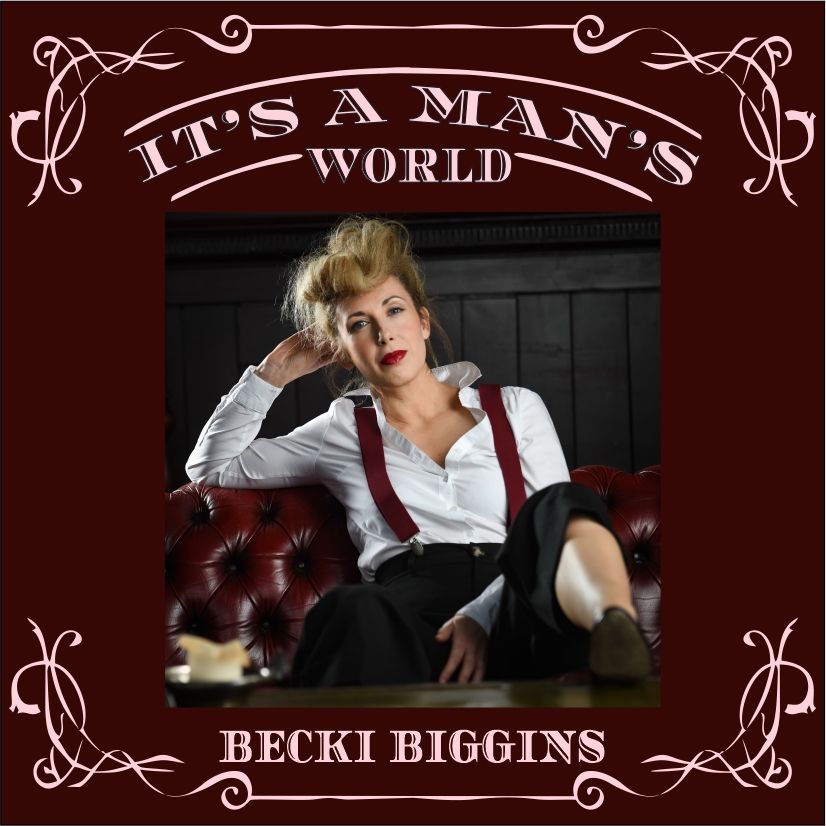 ---
Tickets for the concert in Tutshill, Gloucestershire on Friday 18th  November (release day!) are selling like CRAZY.  If you'd like to come along but you've not booked your ticket yet, please do...  there are something like 25 tickets left, and I'd hate for you to miss out.  Book your ticket by clicking here.
---
I won't go live on the socials this evening, as I'm taking the boys to a bonfire (yesssssss!), but I'm planning to go live on Sunday evening at 6pm.  If you'd like to join me, make sure you follow me on Instagram to be notified when it starts.  Links to other social media platforms are below.
---
So, it just leaves me to say thank you, friends.  Thanks for being here, for reading my news, for booking tickets, following on the socials and for your messages telling me you enjoy these weekly emails.  I really, really appreciate your support, and your friendship, and I'm so glad that you're with me.  It means the world.
Have a great week,
Becki x
Links to socials: